It's been brought to my attention that not only is Reed Coleman over on his website still not acknowledging that he stole information from this forum and used it as his own. He is also over there on his website allowing his followers to personally attack me and personally attack the people who are leaving comments asking him questions about why he took information from this forum and never gave credit to me or the forum.
Say whatever the hell you want about me, but it does not change the FACT that Reed Coleman joined my forum, stole information and then created an entire blog based on the information he took from me and my forum. Now he's apparently writing a book and I would bet anything that his book is going to revolve around the information he stole from me.
Coleman takes 100% of the credit for the discovery of Adam Lanza being "Smiggles" on the previous Columbine forums, Super Columbine Massacre RPG/Shocked Beyond Belief. And that is not the truth. I am the one who discovered that Adam Lanza was Smiggles, not him. And I have the proof to back that up.
On January 1, 2014 this is the post I made here on the forum.

On January 7, 2014 Reed Coleman joined my forum (the part blacked out is my IP address).

On January 8, 2014 Coleman writes an article on his blog about how Adam Lanza had been posting on the old Columbine forums as "Smiggles".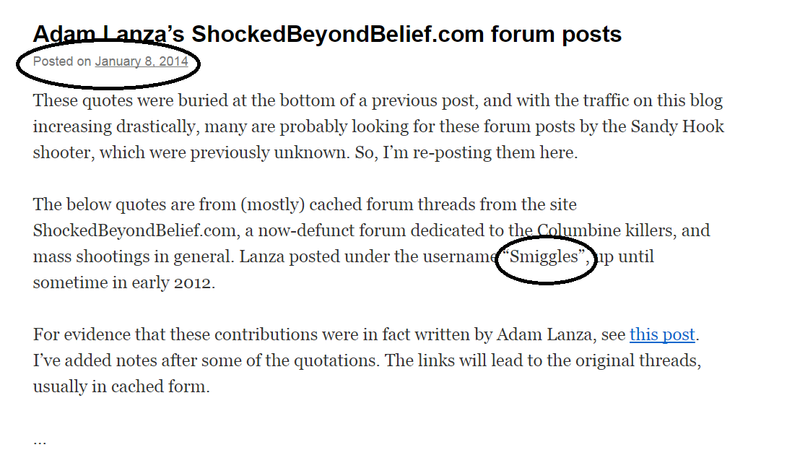 No where on Coleman's blog did he ever mention a word about Adam Lanza being Smiggles prior to this post he made on January 8, 2014. One day after he joined my forum and stole this information from me and then acted like he made this discovery all on his own. In the 3 years since I've publicly posted that Adam Lanza was Smiggles, not once has Coleman ever acknowledged that he got that information from this forum.

On January 10, 2014, Coleman updated his Sandy Hook Timeline. And you can see the date and that he mentions "revealing" Lanza as Smiggles.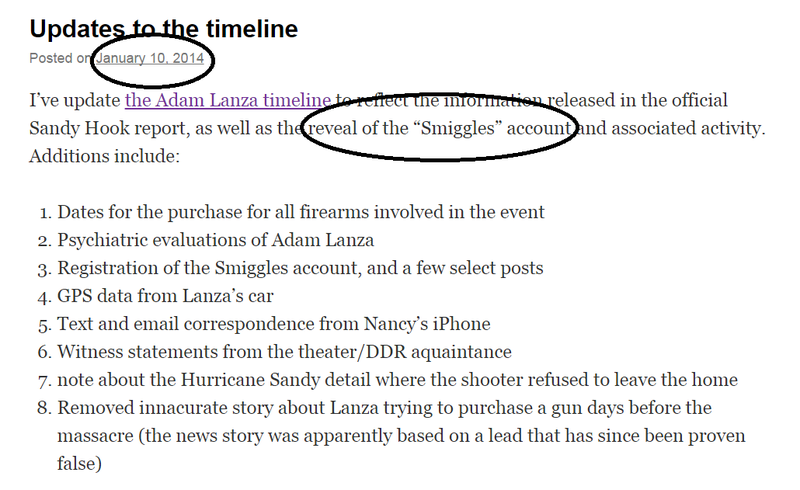 Yes, this timeline was created on September 7, 2013 but as you can see for yourself in this screenshot, he says that he updated the timeline on January 10, 2014 to "reveal" that Adam Lanza was using the name "Smiggles" on the Columbine forums. Again, he does not mention that he took that information from me.

Recently an anonymous person mentioned this to Coleman.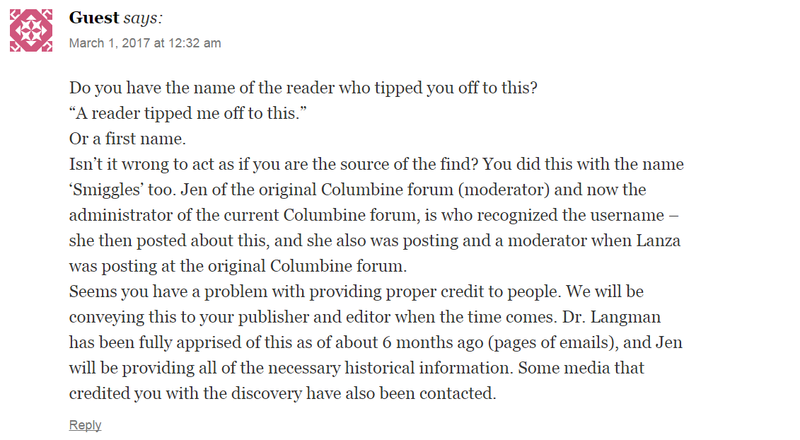 And another anonymous person mentioned it as well.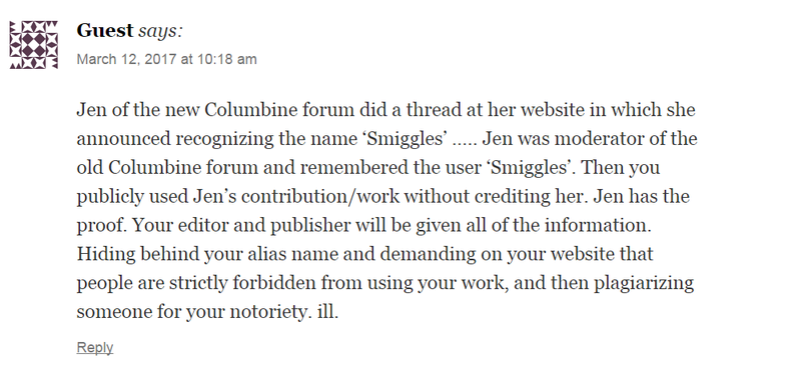 Here are the responses from his followers that he is allowing to personally attack me and the people who left the comments about me. I have a strong suspicion that these comments came from Coleman himself on alternate accounts that he made.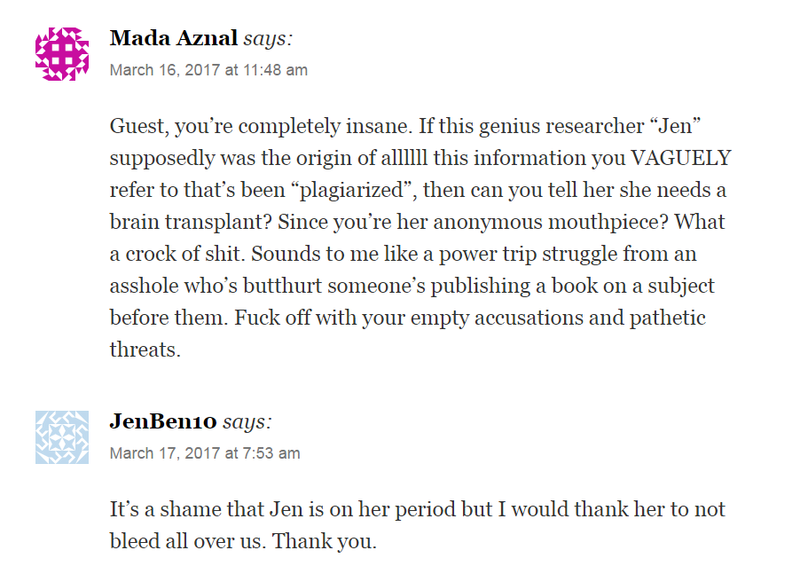 Coleman and his followers - First of all, I don't need anyone to "speak" for me. I am quite capable of speaking for myself. I didn't put any one up to coming onto your blog and leaving comments. People are leaving comments and asking questions because you're a liar and because you steal information from other people, claim it as your own and then leave warnings on your blog about how it is prohibited to copy your work.
Second of all, what the heck does me "not writing a book" have to do with a damn thing? Seriously? That since I'm not "putting it out there" it's OK for you to use my research as your own? And you're allowing your followers to tell people who are asking legitimate questions to go "fuck themselves"?  And you're supposed to be a professional? Then again, personally attacking me is all any of you can do. You can't prove me wrong because you know you took my research and wrote on your timeline it was your discovery. You know you found out that Adam Lanza was Smiggles from me and the post that I made here on January 1, 2014. And by the looks of things, you've been obsessed with Lanza way before January 8, 2014. Yet you never mentioned him being Smiggles on the Columbine forum until 7 days after my post and the day after you joined my forum.
And finally, I couldn't give 2 shits about your book. You wouldn't even have a book to write if it weren't for you finding out from me that Lanza was Smiggles. And let's face it, you never would have figured out that Lanza was Smiggles on your own because you were never apart of the old forums. And I'm sure you had gone over those Sandy Hook documents a hundred times and saw the name "Smiggles" a hundred times, yet you never put it together because you were not there. You were never interested in Columbine. You only joined my forum because of the "Sandy Hook" sub-forum. I bet that entire book you're writing is going to revolve around Adam Lanza being Smiggles and the posts that he made on the Columbine forums. And I can guarantee you still won't give me credit for that in your damn book, will you? Even though I know and and even though you know and even though anyone who has some common sense knows that you took that information from this forum.
And BTW, Coleman, it's Jenn not Jen. Please don't misspell my name if you decide to actually do the right thing when you write your book and give me credit for providing you with the information that Adam Lanza was Smiggles on the Columbine forums. Even though I know you probably won't. Judging by the fact you've spent the last 3 years taking credit for something you didn't actually discover yourself, I'm expecting nothing less than for you to continue taking credit for my research.
And to whoever it was that brought this up to Coleman, thank you for standing up for me. I really do appreciate that. If you're a member here and want to send me a PM to discuss any of this with me, that would great. I'm just sorry you got personally attacked by someone who is supposed to be a professional. The reason he uses personal attacks is because he knows you were right and that's all he can do. But regardless, thank you again. And thank you to the one who brought this to my attention. I'm not going to mention you by name because I'm not sure if you'd want me to do that, but if you do, let me know and I will. Again, thank you.